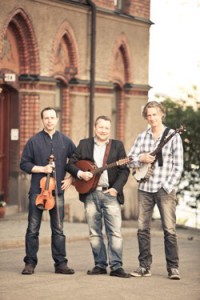 Quilty can almost be considered living legends of the Irish folk music scene in Scandinavia. With their fantastic musicianship, their profound knowledge of the genre and the personal sound they have developed, the band has played its distinctive interpretation of Irish traditional music and continued to captivate their audiences for more than 20 years.
Quilty was formed in 1993 and during the following twelve years the group performed about one thousand concerts and held a large number
of workshops, as well as collaborations with choirs and symphony orchestras. The ripples are visible even today, and many young musicians around Sweden got their very first musical inspirational
kicks from Quilty.
Quilty's interpretation of traditional Irish music has a strong and
personal expression. Jigs and reels at breathtaking tempos, together
with sea shantys in powerful vocal harmonies are interwoven with
songs about love, emigration and adventures. Quilty always offer a
rich, varied and colourful concert, filled to the brim with joy,
humour and sincerity, and perhaps some surprising musical pranks.
After a break of nearly 10 years, Quilty are finally back! Now even
better and more well-polished than ever. The new and highly
anticipated album "Apples in Winter" was released in March 2015 at a
crowded release concert in Nalen in Stockholm.
Dag Westling (vocals, guitar, five strig banjo, tin whistle). Dag is
also known from the Irish folk music group Eitre, as a solo artist
and the duo project "Thousands Are Sailing" with Swedish and Irish
emigrant songs.
Gideon Andersson (bouzouki, bodhrán, vocals). Gideon is a well-known
multi-instrumentalist with musical roots in blues and symphonic rock.
He has a long and varied career behind him and today he leads a music
school and a choir in Oslo, Norway, and composes his own music.
Esbjörn Hazelius (fiddle, vocals, guitar). Apart from Quilty, Esbjörn
is well known from bands such as Hazelius-Hedin, Eitre, and as the
musical motor behind e.g. Sofia Karlsson. He has released a solo CD
of his own songs in Swedish, and his duo Hazelius-Hedin won the title
"group of the year" at Folk- och Världsmusikgalan in 2012.
Choir concerts
On request Quilty now provide choir collaborations again. This
successful concept, with Irish songs especially arranged for choir
together with Quilty as the orchestra, has resulted in successful
concert collaborations with over 100 different choirs in Sweden and
Norway over the years.