Köp skivor här/Buy cds here! – Följ instruktionerna nedan/Follow the instructions below:
Inom Sverige/within Sweden: Plusgirot 604 91 11-5 (Quilty Music)
From abroad: IBAN: SE45 9500 0099 6018 6049 1115, BIC: NDEASESS.
Pris per CD: 160 SEK
tillkommer porto 40 SEK för upp till 2 skivor/Shipping abroad 8€ up to 2 CDs.
Glöm inte att skriva ditt namn och adress, vilken skiva/Don´t forget to write name, adress and which cd.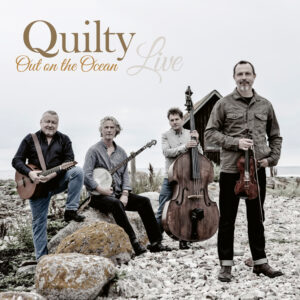 NEW ALBUM!
Out on the Ocean – Live
– 2022
Dag Westling
Gideon Andersson
Esbjörn Hazelius
Staffan Lindfors
Sea shanties, songs of emigration, love
ballads and tales of epic adventures
at sea provide the flavour for this salty
and tar scented concert combining Irish
and Scottish songs and tunes with the
Atlantic Ocean as a backdrop.
No booklet included! We intend to provide the lyrics and background info of the songs from the album on our home page soon, as it says on the cd cover. We apologize for the shortcoming not having provided with this additional material yet!
General Taylor
The Lady Leroy
Out on the Ocean/ The Cliffs of Moher/ Stan Chapman's Jig
Northwest Passage
The Bonny Ship the Diamond
South Australia
Farewell to Erin/ The Boys of Malin
The Handsome Cabin Boy
The Hog Eye Man/ The Full-Rigged Ship
Sweet Dublin Bay
When the Tide Comes In/ Bantry Bay
The Press Gang
Up In the Air/ Billy Brocker's Ah, Surely!
Farewell to Nova Scotia
Quilty 25
– jubileumsalbum 2018
QUILTY FIRAR 25 ÅR och vi låter denna cd bli vår egen tidsmaskin med vilken vi reser tillbaka för att minnas alla musikaliska möten och hylla er – vår publik, som hängt med oss under åren!
Vi har här vaskat fram guldkornen, däribland många Quilty-klassiker, från en mängd tidigare outgivna live- och studioinspelningar. Vi hoppas att ni ska bli lika glada som vi är över denna cd … !
Wild Mountain Thyme
The Lark In the Morning
Belfast Hornpipe
As I Roved Out
Give Us A Drink Of Water – slip jig
Barrett´s Privateers
Ye Jacobites By Name
Whiskey In the Jar
Only Our Rivers Run Free
The Quarrelsome Piper – hornpipe
Donkey Riding
Spancil Hill
The Wren´s Nest – jigs
The Blacksmith
Fiddle reels
The Irish Rover
Mc Auliffe´s Polkas
Bodhran Solo
The Wild Goose
The Pipe On the Hob – jigs
I Wish I Was In England
Duelleing Banjos
Botany Bay
Dingle Regatta
Apples in Winter
– 2015
Dag Westling
Gideon Andersson
Esbjörn Hazelius
Gästmusiker:
Staffan Lindfors – kontrabas
Magnus Zetterlund – mandolin
Two Sisters
The Wild Goose
Te Creel
Boys Of the Lough – reels
In My Prime
Horo Johnny
A Punch in the Dark – reels
The Diggers
Rights Of Man – hornpipes
Charming Betsy
I'm Here Because I'm Here
– 2001
NYUPPLAGA/NEW EDITION ! Available now!
Dag Westling
Gideon Andersson
Esbjörn Hazelius
Gästmusiker:
Staffan Lindfors – kontrabas
Ye Jacobites By Name
St Patrick Was A Gentleman
I Wish I Was in England
I´m Here Because I´m Here
The pipe on the Hob – jigs
Spancil Hill
Tipping it up to Nancy
Botany Bay
The Musical Priest – reels
Follow Me Up to Carlow

Nocturne
A Drop of Pure
– 1995
Dag Westling
Gideon Andersson
The Rocky Road to Dublin
I Will If  Can – jigs
Home Boys Home
Liverpool Hornpipe – hornpipes
The Lark In the Morning
The Dark Eyed Sailor
I Tell Me Ma
The Star Of the County Down
Belfast Hornpipe
The Hooligan Jig
Junior Crehan´s – reels
The Blacksmith
Paddy´s Green Shamrock Shore
The Piper´s Chair – jig
Sailor´s Hornpipe
Foggy Mountain Breakdown
Duelling Banjos