Köp skivor här/Buy cds here! – Följ instruktionerna nedan/Follow the instructions below:
Inom Sverige/within Sweden: Plusgirot 604 91 11-5 (Quilty Music)
From abroad: IBAN: SE45 9500 0099 6018 6049 1115, BIC: NDEASESS.
Pris per CD: 160 SEK
tillkommer porto 40 SEK för upp till 2 skivor/Shipping abroad 8€ up to 2 CDs.
Glöm inte att skriva ditt namn och adress, vilken skiva/Don´t forget to write name, adress and which cd.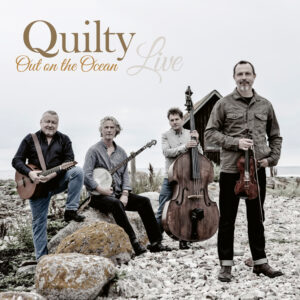 NEW ALBUM!
Out on the Ocean – Live
– 2022
Dag Westling
Gideon Andersson
Esbjörn Hazelius
Staffan Lindfors
Sea shanties, songs of emigration, love ballads and tales of epic adventures at sea provide the flavour for this salty and tar scented concert combining Irish and Scottish songs and tunes with the Atlantic Ocean as a backdrop.
General Taylor
The Lady Leroy
Out on the Ocean/ The Cliffs of Moher/ Stan Chapman's Jig
Northwest Passage
The Bonny Ship the Diamond
South Australia
Farewell to Erin/ The Boys of Malin
The Handsome Cabin Boy
The Hog Eye Man/ The Full-Rigged Ship
Sweet Dublin Bay
When the Tide Comes In/ Bantry Bay
The Press Gang
Up In the Air/ Billy Brocker's Ah, Surely!
Farewell to Nova Scotia